Dolphins and Their Relation to Humankind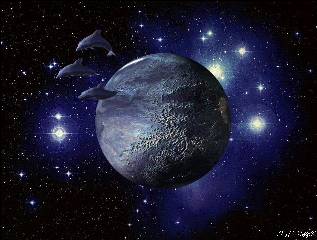 The Dolphins come into our heart in ways unobtrusive and sublime. Dolphins - does the very word not make your heart leap and surge like a dolphin through the waves? Could it be something that they have, something that deep within you know is yours?
Peace, love, joy, freedom of expression and grace of movement. Ecstasy in motion, delight in themselves and each other. Could it be that the dolphins may teach us what they know if we would listen? Would share the secrets of life if we would ask? Would teach us about sound and healing - interspecies communication and starships?
Various Dolphin, Orca and Whales Images:

Jumping Dolphins - 71KB

Dolphin - 30KB

Dolphin Head - 11KB

Dolphin Group - 75KB

Dolphin Group #2 - 36KB

Killer Whales - 87KB

Dolphins in Space - 80KB

Orcas and Kids - 131KB
© Wyland

Whales - 116KB
© Wyland

Whale Tail - 49KB
© Wyland

Dolphine Formation - 117KB
© Wyland

Fairy Tale with Dolphins - 147KB
© Wyland

Dolphins in deep sea - 121KB
© Wyland

Dolphins in Between - 46KB

Dolphins in Space - 58KB

Orca Jumping - 85KB

Orca Closeup - 179KB

Orcas - 165KB
Dolphin Posters (Daniel McCulloch)
Professional Gallery
Wyland: Best Dolphin Pictures Ever (Wyland)
---
For further and/or deeper information look at The Dolphin Ones, Dolphin Communication, The Dolphin, Swimming to the Stars, Sirius Relationships.
---
Subjects
Lightwork
Sirius
Earth, Nature and Animals
Extraterrestrial Connection: ET Contact
Tales from the Planets
An Extraterrestrial's Journey to Earth
Walk-Ins and Sirius
The ET Connection & Ascension
Pleiadians Book
Masters, Extraterrestrials and Archangels
Alien Cultures
The Ashtar-Command
The Dolphins
---